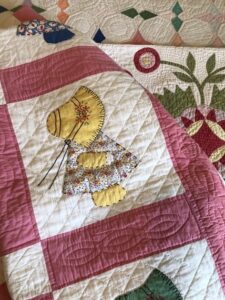 As we look for inspiration and comfort in the current times, returning to family craft traditions has been a healing and welcome creative outlet for many. Online craft classes abound, and sources for materials are one of the market sectors that has struggled to keep up with demand (particularly elastic — unsurprising, given the surge of makers sewing homemade masks).  
Back in the early 1980s, I completed my master's degree in surface design at Miami University. My thesis topic was based on a family heritage of quilters, weavers, lace makers, and embroiders. This was the beginning of my recognition of the "thread" that connects one generation to the next. I didn't realize the time I spent watching all those "grands" and "greats" in my youth would be the start of my passion and, ultimately, my career.  
Finding inspiration by reflecting on the past 
I have an ancestral love of textiles in my blood. As a child, I slept under a quilt featuring Sunbonnet Babies, with embroidered flowers on their hats, made by my great grandmother. She also gave me my first sewing machine — a foot treadle, as my mother figured I was less likely to run over my fingers as the machine couldn't go too fast.
My immigrant ancestors lived among the Amish and Mennonites as they made their way to Ohio. I assume that this is part of the reason I'm drawn to the graphic nature and color selection of the traditional Amish quilts. These traditions were displayed on a grand, fine-art scale through an exhibition at the Whitney in 1971, Abstract Design in American Quilts. The showcase featured graphic quilts displayed on walls, juxtaposed with abstract paintings from the 20th century. This was a huge "breakthrough" for the recognition of the artistic value of craft, although the battle between what constitutes "craft" and "fine art" remains contentious even today.
A rich history
In the fall of 2002, the High Museum in Atlanta was a stop on the show tour for The Quilts of Gee's Bend. Gee's Bend referred to the location along the Alabama River in Wilcox County where a group of Southern Black women created masterful quilts. There was a quilting class at the museum taught by one of the ladies of Gee's Bend as part of the tour of the quilts across the country, and I was lucky enough to be there.
The families were enslaved in the small community and were mandated the surname Pettway after the white owned plantation in the area. The Pettway name has continued for generations and has remained one of the largest surnames in the area to this day. The community within Gee's Bend remained isolated over the decades due to extreme poverty, thus lending the development of intricate quilting patterns that mirrored great abstract and minimalist artists.  
Fabrics recycled from clothing, including thick denim and corduroy, were put to use to create quilts for warmth in the damp conditions along the river in winter. Seams were crooked and corners didn't always match, as they used every inch of fabric to create their patterns. One of the ladies mentioned that they didn't think about being artists but that she knew it to be so once she saw their work hung in museums. If you have time available, you can hear more from her and learn about the group's fascinating history by watching this PBS documentary on Gee's Bend.  
What's old is new again
Some years later, I stumbled across a magazine article about Natalie Chanin and her company, Alabama Chanin www.alabamachanin.com.  Natalie and her team in Florence, Alabama, created an amazing company based on the quilt tradition, combined with the cotton knitting factories there.  She built a fashion business and school to teach the unique combination of quilting with knit fabrics. (I've also attended these classes.)
Recently, cartoonist Roz Chast was interviewed by the New Yorker about her passion for crafts and what she's been doing to keep busy while sheltering in place. (The answer: painting Ukrainian Easter eggs, known as pysanky, and creating beautiful pieces of embroidery.) She's also found a community in embroidery social media circles — an unexpected perk to this time of isolation, but one that's very much welcomed. 
With all this time to look back and revisit these traditional art forms, "recognition" is the word that comes to mind, in spite of the times we're in. After all, it makes sense to look back at the past when we're trying to determine how best to move forward, even if it's just to keep an artistic spirit alive and growing. After all, we've been taught through the generations and have been shown the path.
I'd love to know what creative projects you're working on and what inspires you these days. Share a photo on Instagram and use the #studiotwistllc hashtag!