Ten years ago this month, Studio Twist was born. What started as a one-off project grew into another, then another, and eventually turned into a full-fledged business. So, this month I'm thinking about the path that led me here: not just my early career hand-painting patterns or working with wool, but the path that was laid for me long before my hands first touched a pair of knitting needles.
I can't quite trace a single moment in which my love for textiles took root, because they were simply always there: the women in my family were always making something with their hands. As a little girl, I remember watching my grandmother try to show me how to use a shuttle to make lace, and I could barely see what she was doing, her hands were working so quickly. She couldn't slow down if she tried — her hands knew the rhythm by heart.
On the other side of my family, an antique christening gown, handmade by my great-great-grandmother and passed down through generations, helped me feel deeply connected as a young girl to a woman who had passed away years earlier. With handmade lace yoke, hand-sewn pintucks, and lace around the bottom edge, plus a matching petticoat with careful patching where perhaps one of my family members kicked through the fabric, is a living artifact of a tradition, and a tangible link to the women who came before me — I wore it in my own christening, and my daughter wore it for hers. A way to hold in my own hands, something they made with theirs.
In school, that kind of living history inspired me as I shaped and evolved my own aesthetic. I found it exciting, the opportunity to explore beyond the things that were right in front of you, and so I often found myself digging around in the past for "new" inspiration that, of course, wasn't really new at all. (Plus, I wasn't particularly interested in coming up with yet another herringbone.)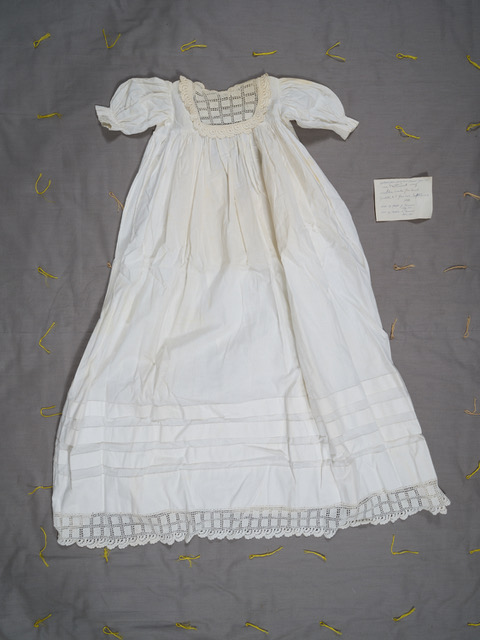 I come from a long line of makers. Continuing that tradition is in my DNA, maybe even a bit of destiny — so it's funny that a few of my most formative moments in textile study came together purely by chance. In my 20s, I was offered a position to return to my undergrad college to teach part-time. As I was trying to figure out what else I'd do with my time there, I discovered that there was a textile design program at Miami University, just 30 miles away. Serendipity! I went in and showed my undergrad work to the gentleman who'd ultimately become my main professor. He took an interest in my work, and the fact that I knew how to make it work in a commercial setting, not just a gallery wall. (The rest, as they say, is history.)
Later, for my senior thesis, I had the idea to make a contemporary textile based on traditional quilt patterns. I had my reference material, and I knew how I planned to organize the patterns, but I wasn't sure how I'd apply color. One day, as part of my research, I visited a famous quilter in Ohio, and as I was leaving, a blinding snowstorm hit right as the sun was setting ahead of me. Diffused by the snow, the light shattered into a million pinks, purples, and oranges — and just like that, I had my quilt's colorways. That thesis project still hangs on the wall above my desk. I look at it every day when I walk into my office, and it's like a touchstone that takes me right back to my roots.
Maybe that's serendipity. Or maybe it's just knowing how to recognize a door when I see one and having the guts to walk through. Which is really how Studio Twist began.
Ten years ago, someone asked me to make something, and that turned into a few projects, and then a few more. For eighteen months, I was running two companies at once: keeping my day job going during working hours, and then starting Studio Twist from the ground up at night. (I distinctly remember my husband peeking into my office at 10 p.m. and asking if I was ever coming out… more than once.) I didn't really have a grand plan, or even a medium-sized plan. True to my Ohio farmgirl roots, I just put one foot in front of the other and kept going. Somewhere along the way, I grew a business from the ground-up, took risks I'm proud of, and continued building on a generations-old family tradition of making things.
I didn't know what was ahead back then, and I still don't — if the last two years have proved anything, it's that "grand plans" can be a fool's errand. In the last decade, we've had the privilege and pleasure of working with some truly wonderful team members, scattered across the country, and many designers and purchasers all over the world. This work has proven to be more meaningful than just the big projects, or the awards, or the travel (though I hope for more of all those things in the years to come!). It's been thrilling at times, exhausting at others, and deeply validating.
I won't pretend to know what the next ten years hold for Studio Twist. All I can do is put one foot in front of the other, which is probably exactly what the women in my family who came before me would do, too. I like to think they'd be proud.