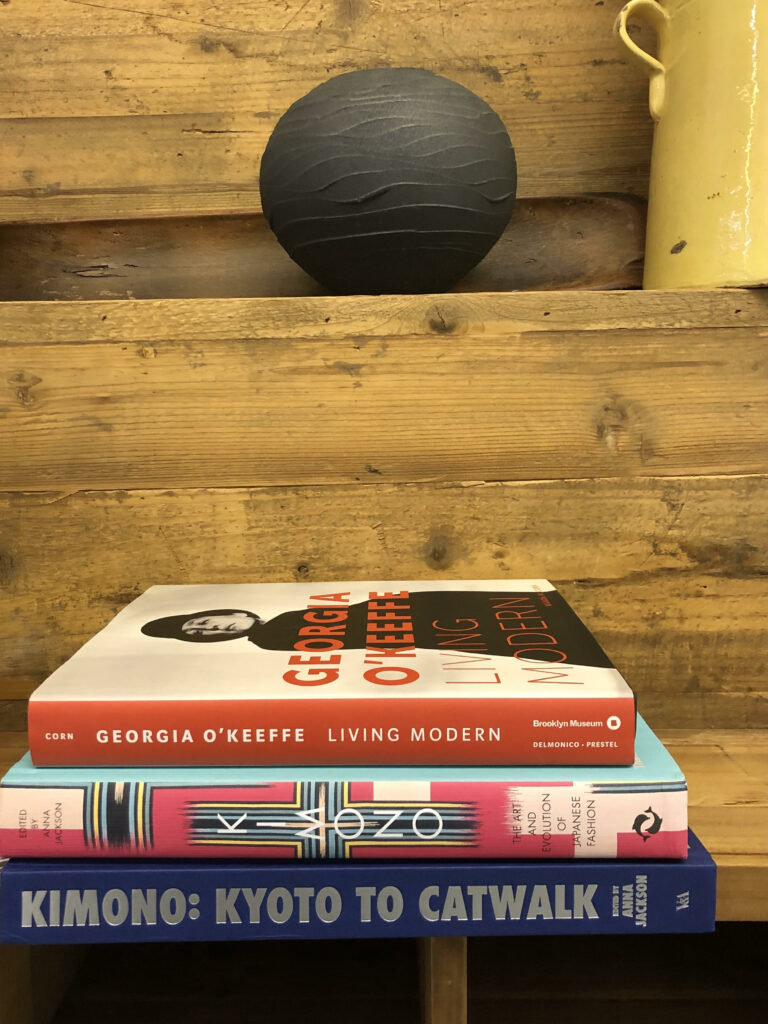 Museums have always been a source of inspiration for me. Getting an art degree (which often involves hours of staring at slides and memorizing artists and dates) will do this to you. So, while we wait for the world to open safely, I've been revisiting some of the museum shows that had an impact on me by way of the coffee table books I purchased featuring these exhibited works.
A lifetime favorite of mine is Georgia O'Keefe: Living Modern, a show curated by Wanda Corn.  The traveling exhibition started at the Brooklyn Museum and subsequently stopped in Cleveland, Wichita, and elsewhere. It's currently on display at the Norton Museum of Art in West Palm Beach, which finally plans to reopen this month.
As the Brooklyn Museum so succinctly explains, the show "offers a new look at an iconic American artist. Presenting O'Keeffe's remarkable wardrobe in dialogue with selected paintings and photographs spanning her career, this singular exhibition provides a focused examination of the modernist aesthetic persona O'Keeffe crafted for herself through her dress, her art, and her progressive, independent lifestyle."
Her style in the early 1900s was similar to her classmates at the Chatham Episcopal School in Virginia – traditional white linen with pin-tucks and lace, and her craftsmanship in these garments was nothing short of exquisite. A full wall of the exhibit was dedicated to the fine white blouses from this period. When she moved to New York City and devoted herself to becoming a full-time artist, her individuality became more noticeable, as captured by the photographs by Alfred Stieglitz. Following her move to New Mexico, and the death of Stieglitz in 1946, her artistic style continued to evolve, and her iconic work and sense of fashion resulted in the famous images of her by Vaccaro and Avedon later in her life.
To see her fashion development juxtaposed with her paintings (only a small part of the show) was a revelation.  I found her art to be more interesting through this lens.
I was greatly looking forward to Kimono: Kyoto to Catwalk, a show on display at the Victoria & Albert Museum in London that I'll end up missing for obvious reasons. Over the years, I've found their shows to be exquisitely presented, and the story always well told. The show (and the accompanying book, which is as close to the artworks as I'll get for now) traces the creation of the traditional kimono in Japan, and the splendid expression of the bridal kimono from the Edo period to present day. It also examines the use and variations of the kimono for stage and movies.
The book, with 300+ pages of history, design and breathtaking images, details the importance of the kimono in traditional Japanese Kabuki theater, and the printed pictures of the actors in costume used to advertise the shows. It traces the embellishments applied to the garments by traditional shibori (indigo dyeing) and sashiko and boro stitching. The book culminates with the transformation of the kimono in contemporary and "street" fashion design by the likes of Chanel, Gucci, Galliano, Dior, and Tom Brown. It also takes a closer look at the garment as worn by both men and women.
The V&A also has a large collection in their archives, and Kimono: The Art and Evolution of Japanese Fashion details this. (My copy is tagged with so many markers that it's almost exploding.) In this book, a yogi (sleeping kimono) is patterned with paste resist dyeing, tie dyeing, ink painting, and embroidery in silk and metallic threads. Relatedly, I don't think I would have been able to close my eyes if I was wearing these pajamas. The colors vibrate with saturation and depth.  A kimono for a woman is constructed of stenciled warp dyed fabric in a key fret pattern with overlaid stripes, bands of color in emerald green and black, bright red and white.
If you find yourself in NYC, either now or later, I would highly recommend a visit to Sarajo on Howard, which showcases "one-of-a-kind ethnographica." In addition to a lovely gallery, they have wood flat file drawers filled with textiles from around the world, curated by a very knowledgeable staff. A recent update included a selection of their favorite kimonos: Kasuri, Meisen, Shibori and others.
Until you can travel, I also recommend checking out Selvedge, a clothing and textiles magazine from the UK. The September issue, "Homage to Humanity", features garments from the nomadic Mir region of Belarus . An article shows a blending of traditions from the Muslim and Hindu faiths, including spectacular embroideries and beadwork in vivid colors that are part of this culture. The colors create a strong contrast against the surrounding countryside. Also included are looks at Kente fabric from the Gold Coast of Africa, along with Kadi fabric originating in India and now produced in Oaxaca, Mexico. There's also a feature on Bibi Hanum, an Uzbek clothing brand.
I find the way they offer authenticity to current textile development to be breathtakingly beautiful and inspiring — and, particularly these days, I welcome inspiration anywhere I can find it.