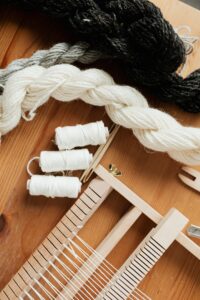 As a self-described "textile junkie", my interests and inspirations vary widely — sometimes I find inspiration in my travels or visits to museums, sometimes it's quite literally in my own backyard. But like any artist or creative person, I owe a debt of gratitude to those who came before me. When I think of truly trail-blazing artists that laid the groundwork for those to come, three women come to mind. I consider their work to be not only pioneering, but transformative — and textiles are all about transformation.
Edith Head
Although my career never touched on fashion, my interest in sewing goes back to a gift from my great grandmother of her treadle sewing machine. Every year when the Oscars come around, I am always reminded of this, and my fascination with Edith Head.
From 1949 to 1973, she racked up dozens of Oscar nominations for best costume, and took home a record-setting eight Academy Awards over the course of her illustrious career. Head's breakout success was dressing Olivia de Havilland in The Heiress, directed by William Wyler. Wyler, meticulous about the authenticity of his work, insisted that all the garments were to be historically accurate — even those never seen on camera.
Sunset Boulevard was another early Head triumph. Gloria Swanson's character, Norma Desmond, is dressed in sumptuous fabrics to portray her wealth, and helped to reinforce the story line of her regression to earlier theatrical triumphs.
But it was Head's sketches I remember most vividly, especially the ones for Audrey Hepburn in Roman Holiday and Sabrina.  Those elegant renderings of every exquisite detail were fascinating! Her final film was Dead Men Don't Wear Plaid with Steve Martin and Rachel Ward in 1982.
Anni Albers
Although I have taken classes in weaving, I'm not proficient. But that doesn't keep me from appreciating the work of Anni Albers. Upon entering the Bauhaus in 1922, she, like many female students, was persuaded to join the textile workshop rather than her intended area of study, painting. This was considered a "more appropriate" field for a female artist.
The workshop notably lacked a structured teaching approach, leaving the students free to explore "amazing objects, striking in their newness of conception in regard to use of colour and compositional elements," as Albers described in her 2000 essay collection, "Selected Writings on Design." The intricate, vivid weave structures that she created are still a source of inspiration to me.
Anni and her husband, Josef Albers (a German artist known for painting and the study of color), immigrated to the U.S. in 1933 to teach at the Black Mountain College near Asheville, NC. Her first retrospective at MOMA in 1949 was championed by Phillip Johnson, the architect.  She was known for her painstaking attention to historical textiles and techniques, and her writings On Design and On Weaving.
Ruth Asawa
While teaching at Black Mountain, one of Anni Albers's students was Ruth Asawa, a fact I only learned while researching this project. One of Asawa's more recent shows was at the Hauser and Wirth Gallery in LA, where, by a total fluke, my daughter worked. I was so very glad to have visited there for two reasons – one part maternal, and one part artistic curiosity.
Ruth Asawa was raised in California on a truck farm run by her family, who were Japanese immigrants. Her path in America took her from those California fields to an internment camp following the bombing of Pearl Harbor, and finally, to Milwaukee Teachers College, where she studied art education. The connections between this school and the Black Mountain College eventually brought Ruth to the North Carolina mountains. There she met her aspiring architect husband, and the Alberses, all of whom influenced her work.
Asawa learned wire "crocheting" during a visit to Mexico, and this variation of weaving became one of the techniques in her art. "Contours in the Air" is somewhat indescribable, but I'll give it my best shot: a series of large-scale wire pieces that blurred the line between textile and sculpture – striking, amorphous circular hangings, many with shapes inside the shapes. They have the visual appearance of sculpture, but the lightness of a textile, creating striking shadows in the stark white galleries. (Asawa's work also touched our own world, the hospitality industry, with commissions for lobby art at several properties in the San Francisco area.)
"Transformation" is a common theme in textiles: yarn becomes fabric, fabric becomes fashion. These three women were transformational, too, bringing new ideas, techniques, experimentation, and rigor to the craft.