Earlier this year, I kicked off our "Decennium" by reflecting on the journey that led me into a lifetime of textiles (and ten years of Studio Twist). Now I'm looking ahead — no easy feat, as we've all learned in the last few years. The future, as we know now, can change very quickly, and the aftershocks of those changes can stick around for a long, long time. (Looking at you, supply chain).
But even through everything — our industry getting turned upside down, our worlds shrinking to the size of our backyards, our travel habits shifting, and our lingering logistical challenges, to name a few — a few things have proven to remain true: that hospitality can recover, no matter the size of the obstacles. The path won't be linear or straightforward, and there will be fits and starts. And, whether it's scrambling for staff or financing or simply trying to get ahold of that next container, there will be challenges — none of which cannot be overcome.
Our industry adapts, adjusts, and marches on. And even amid all these great challenges, creativity, innovation, and hospitality carry on. Trends ebb and flow just like they always do: more gray one year, more beige the next. Timeless patterns like chevrons and plaids endure. But beyond the usual trend cycles, we're particularly excited to see, and assist, our clients seek out new perspectives for their properties and their guests.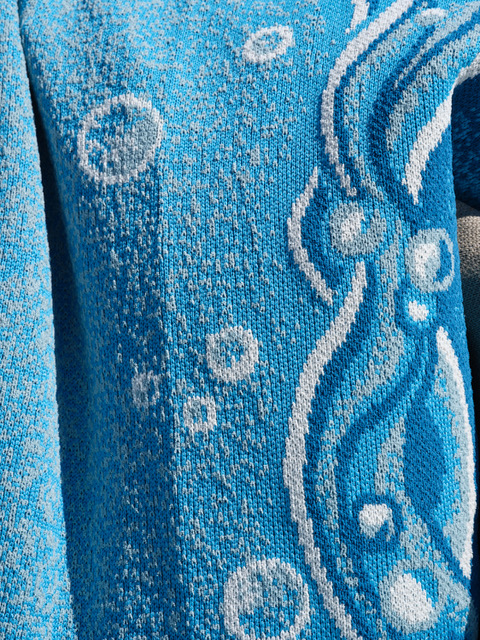 Using textiles to tell a story, of course, isn't new: humans have weaved tales through textiles for thousands of years. But given the custom nature of our work, we love helping our clients bring their properties' stories to life, convey a sense of place, or offer some other creative way of interpreting a landmark, whether that means monograms, embroidered details, or custom labels. One Southern California property we worked with, for example, integrated the motif of the ubiquitous Hollywood sign, but in a way most people haven't experienced it: the view from behind the sign, giving a quite literal new perspective.
We're seeing more monograms and logos knit in, but also clever references to who or where you are (like one recent boutique hotel in Mexico, which nodded to their surroundings with a loggerhead turtle motif). Another property, a glamping venue in Florida, incorporated dolphins and waves in their designs. From the Eiffel Tower to dogwood trees, from dolphins to custom script: we love collaborating with our clients to create custom textiles that speak to their vision and create a more special experience for guests. And with more properties leaning into the potential retail opportunities, there are more opportunities than ever for guests to take a special piece of their trip back home with them.
As the industry emerges from the pandemic, properties are making updates and looking for ways to freshen up their style without necessarily undertaking a full-fledged overhaul. Bedding has emerged as the perfect opportunity for freshening up the appearance of a property without the expense or headache of going all-in on new carpet or furniture. And bedding isn't just a way to add new decorative elements to a space, but also to make a statement. What better place to make a statement than that big, once-blank space in the middle of one's hotel room?
Beyond design, we're happy to see that the mindset in the industry appears to be trending in a positive direction. Even as companies (including ours!) deal with the challenges of navigating sourcing, supply chain, and staffing challenges, we still see more and more projects being brought out from the backburner, new projects cropping up, and overall an improving (and much welcomed) sense of optimism. And that's a trend I'm especially excited to see.
Image courtesy of Matchline Design Group