Back in March, we revisited one of our most memorable collections, Women's Work: our tribute to the craftsmanship and technical artistry of textile workers around the globe and through the ages. That installment focused on the artistry from Africa, including sacred woven silk cloth from Ghana and indigo-dyed cloth from Nigeria.
This time, let's take a look at some of the standout pieces inspired by communities in South, Central, and North America.
In the mid-16th century, the technique of knitting made its way from Europe to South America by way of European explorers, and indigenous populations used their local resources — alpaca, llama, and vicuna — as material.   Knit references this combined cultural tradition, and its evolution into intricately patterned, fine-gauge small garments, like hats and purses. Now, Aymara women are so renowned for their knitting skills that their expertise was used to develop a device for correcting infant heart conditions — a truly incredible marriage of traditional craft with modern (and life-saving) technology.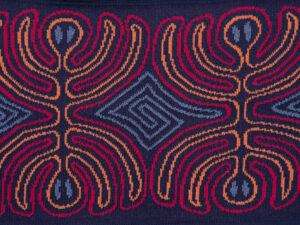 Guna Mola is another reference from Central and South America, specifically Panama and Colombia. The pattern originated from handmade fabric used in traditional garments of the Guna, an indigenous tribe that inhabits an archipelago of islands off the coast of Panama. Guna women initially developed their iconic patterns for body painting, and these patterns were later translated onto fabric for clothing (molas). The molas became politicized in the early 1900's as a symbol of the Gunas' eventual independence from the Panamanian government. The process is similar to Hawaiian quilts – several layers of fabric are sewn together, and the design is created by cutting away and finishing the edges of the fabric. This is a complex fabric and is a source of great pride for Guna women, as the quality of the stitching and design are considered an indication of great skill.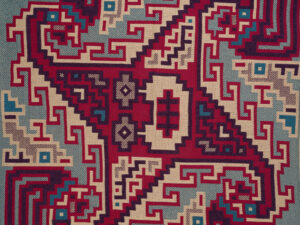 Huari Tapestry originated with the Wari civilization, which is now part of Peru on the western coast of South America. The textiles, made of hand-spun wool and cotton, are part of their burial tradition. Motifs include geometric shapes, with an occasional single random motif or color placement, possibly the makers' mark.  Animals and plants important to their culture were represented, such as plants, cactus, pumas, condors and especially llamas.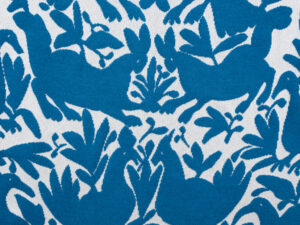 Hidalgo Otomi is a Mexican woven bed covering with a colored wool weft and a linen or cotton warp. Some of the images may have derived from cave paintings or from healing ceremonies by local Shamans, who were among the first artisans.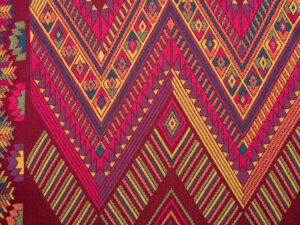 The Mayan Huipil is a traditional garment worn by indigenous Mayan women from Central Mexico. It is a loose-fitting tunic made of panels woven on a back-strap loom in cotton, silk or wool, and joined by stitching, ribbon or fabric straps. The finished garments could indicate the community of the weaver, or life events like weddings and funerals.  Symbolic references were displayed by colors and by symbols, referencing animals and nature.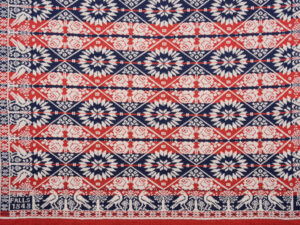 Colonial Coverlet is based on a traditional American woven design with a colored wool weft and a linen or cotton warp. Natural dyes, such as indigo, madder root and walnuts, were used to create the colors. Both overshot and double-cloth weaves were made with geometric and figurative elements. The fancier double weaves were often included with the maker's mark, the weaver's name, location, and production year. Coverlets were intended to be reversible, so inscriptions were woven forward and backward.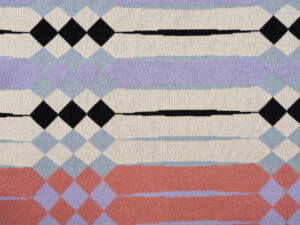 Potawatomi Applique is a tribute to the Potawatomi nation, who initially settled in lower Michigan but were pushed west into Indiana, Illinois and Wisconsin. The Potawatomi women had a strong heritage of craft, including bead work and quill weaving. As trade developed, they began creating quilts from textiles received in trading.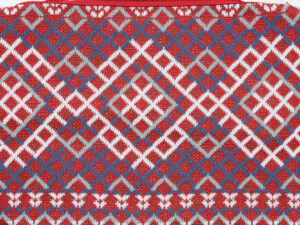 The Inuit beading craftsmanship referenced in Inuit Beading flourished in the Hudson Bay area during the whaling period of the late 1800's to early 1900's. Original beads were made from ivory and bones, and were used as amulets and clothing decoration. The craft was passed from mother to daughter as gifts and were considered treasured possessions. As trade developed, glass beads were added to the artisans' work, creating distinct beading designs that identified the region where it was made.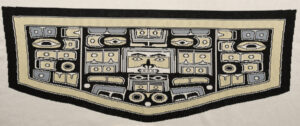 The Tlingit tribe of southern Alaska and the western coast of Canada inhabited their tribal lands as early as 1791. The Tlingit Chilkat blanket was worn by Chief Anolklosh of the Taku clan of the Tlingit and is believed to have been made by Mary Ebbetts Hunt. Chilkat weaving is unique, in that the artisans created curvilinear and circular forms within the weave itself. Traditional materials were wool, dog fur, and cedar bark. Yellow and black were the dominant colors, along with the color of the undyed wool. The warp threads hung loosely from vertical looms.
Even though it's been three years since we launched this collection, I'm still in awe of the ingenuity and technical artistry that these women mastered centuries ago. It's a special honor to have a small part in upholding some of these traditions and sharing them with you. Stay tuned for more!