Around the world, people have used textile crafts to honor deities, memorialize events, and honor their leaders and ancestors. Textiles preserve our history, and they tell a story.
Color plays an interesting role in this. Many cultures faced limitations with color, based on their ability to dye fibers or the availability of certain resources. The meaning of a particular color might shift from one culture to the next. But across cultures, red is special. From death to love to religion, red has so many different meanings, but always seems to hold a unique significance.
Red can mean a lot of things: it might make us think of someone who is energetic, passionate, maybe strong-willed. It might feel synonymous with power. Depending on the style and context, it might be sexy, or it might be sacred — in women's apparel, a red dress might be flirty or sensual, while clergy wear red to symbolize the blood of Christ. (Needless to say, red has a broad range.)
Red can also act as a symbol of community, storytelling and memories, and there are several notable projects that explore this idea. All have significance as an expression of their respective topics in textiles.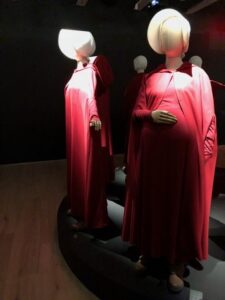 In the Hulu series "The Handmaid's Tale," based on Margaret Atwood's dystopian novel of the same title, red is so integral that it almost feels like its own character. The red dress with the signature white hat have become iconic; in [TKTK], the ensemble was part of a traveling exhibit at the SCADFASH Museum in Atlanta. Even in a museum setting, the ensemble was haunting as worn by the faceless mannequin, with jagged stitching where one eye should have been. In this example, the red dress worn by handmaids symbolizes fertility and the female cycle of reproduction, while the wives in the story wore blue as a symbol of purity. The story of the dystopian society underscores the importance of granting all people in society equal access to economic freedom and other human rights, especially equality of the sexes. The message is delivered in striking simplicity and drama, to say the least, and has resonance with the challenges faced by women today.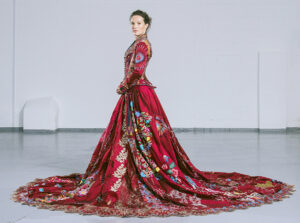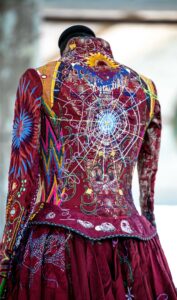 Where the red of handmaids is haunting, the red dress in British artist Kirstie Macleod's "Red Dress Project" is a celebration of global culture and craftsmanship. Between 2009 and 2020, one red dress traveled the globe being continuously embroidered by hundreds of artisans (nearly all of whom were women). Each part of the extravagant dress is heavily embellished with stitches – from flora to fauna to flourishes, many of which reference the regions and peoples that participated in the project. It is a stunning display of global craft: contributions from Palestinian refugees, Colombian artists, and upmarket Bombay studios (to name only a few), all presented in a singular garment. You can watch Black Bark Films' short documentary on the project here.
In the REDress Project, red is an expression of grief and loss. The work was presented outside the National Museum of the American Indian, where 35 red dresses hung from trees, served as representation of the thousands of indigenous women who have been murdered or are missing. These women are rarely identified or found – as of 2016, close to 6,000 women and girls were listed as missing, but only 116 were recorded in the US Department of Justice's missing persons database. In this case, the color red was selected as some indigenous cultures believe it is the only color the spirits can see.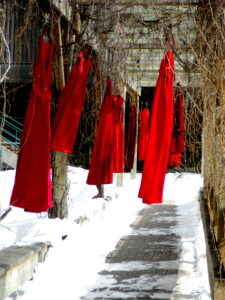 The artist, Jaime Black of the Metis Tribe, created the REDress Project as an expression of her feelings on connectedness to fellow indigenous women.  The issue came to the forefront last year, when Senator Lisa Murkowski reintroduced legislation named for Savanna Lafontaine-Greywind, who was murdered in 2017. Savanna's Act directs the Department of Justice to create new guidelines for reporting of violent crimes against indigenous people and mandate the Attorney General and the Secretary of the Interior to consult with tribes on how to further improve the federal missing persons database and tribal access to them.
On May 5, 2021, people across North America hung red dresses in private and public spaces to commemorate missing and murdered Indigenous women and girls and in solidarity with family members and loved ones.
From gender inequity to global culture to tragedy, red can embody so many different messages and have such a powerful impact on our perception. Perhaps something to think about next time you pull a red dress or sweater from your closet — as Miranda Priestly reminds us, in textiles, a color is never really "just" a color.
***Red Dress Photos from the Kirstie MacCloud project – https://www.letempsdebroder.com/en/articles-en/the-red-dress-stitching-hopes-and-stories-through-the-world/
***Hanging Dress Photo – https://www.si.edu/newsdesk/releases/celebrate-womens-history-month-national-museum-american-indian