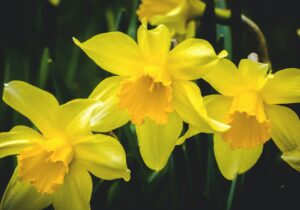 For many of us, the month of March marks a sobering anniversary: one full year of living inside our own four walls during the pandemic. But for me, March brings fond memories and celebration, too. (And I think I speak for most of us when I say that I'm especially eager for an opportunity to celebrate something these days.)
Ever since I was a kid, St. Patrick's Day has always been a celebration to look forward to.  One didn't go to school without something green in your ensemble, which was tricky when wearing a school uniform (but that didn't stop us). My first date with my husband was also St. Patrick's Day – we have joked over the years as this makes it easy to remember. A few years later, we were married on the first day of spring.
Living in the South, March is the start of spring here.  Daffodils and crocus are poking out of the ground and will bloom shortly, adding a riot of color to front yards. The days are noticeably longer, and there's more sun than clouds. (And, crucially, the mosquitos haven't arrived yet.)
But March also brings a big milestone for Studio Twist, which was founded nine years ago this month. From its beginning, it has succeeded beyond anything we could have imagined, albeit not without growing pains. And now, we are waiting – like the rest of the hospitality industry – for the world to restart safely.
Of course, this March feels very different from the ones that came before. Airports were once a regular part of life; now the idea of boarding a plane feels like a vague memory. (And don't even ask about my once-prized frequent flyer miles!) Sometimes I wonder if I even remember how to navigate the airport check in process…or how to pack for a week in two different climates…or what my passwords are for all of those services that we used so often we didn't have to keep track. I'll find out in just a few weeks, when I make my first visit to my 93-year old mom in Colorado since the pandemic began.
At home, we've taken this time to binge watch the majority of the Netflix library – we had held off watching Schitt's Creek until family all got here over the holidays, and we finished the entire series in short order. Next, there was Bridgerton, which we watched as a family before everyone went their separate ways. It was so fun just to sit and spend an evening curled up with a Studio Twist blanket, laughing, together — made even more special as some of us had not seen one another for a year.
Maybe it's just the spring air, but it sure feels like there's hope on the horizon — and with that, questions of how daily life will change. A big one: what will we wear?  Seriously, we are going to have to put away (or, preferably, burn) our daily COVID garb and bring out all those items that have hung quietly in our closet for a year. Will we ever wear "real shoes" again? The idea of heels seems far-fetched — one dear friend known for rocking a high heeled shoe has been regularly seen in Chuck Taylors.  Will anyone notice that their sweaters are past their prime?  I kind of think no one will care. And maybe that's for the best. (I do want to burn the sweatpants, though.)
Looking back, a few things I've learned in 2020:
-I thought I would miss the travel. I do miss seeing our designer clients across the country… but the travel itself, less so.
-I like being home. I don't mind a very small routine of minimal trips in the immediate area, and take out dinners now and then, and more cooking and baking than I've done in years.
-When you're stuck at home, home projects actually get completed! That random list of things that need to be dealt with "someday" is done and dusted… or at least, most of them. I'm still avoiding the bathroom renovation.
-When forced to do so, the mundane is tolerable.
-My handwriting has improved, and my memory has not.
-Missing family is harder than I thought.  When you can't just get in the car, or hop on a plane, the time you do get is more special – almost sacred.
So, can we carry this forward as the world recovers?  Will small companies like ours be able to recover in a marketplace that hasn't really regained its footing yet?  I'm counting on it, so give us a call when you are ready!
Let's start a new series of "anniversaries" – make note of the first trip, the first flight, the first indoor dining…. We will have a lot of these in the year to come, and maybe we will all have a different perspective in the future. Here's hoping we have a lot of celebration ahead of us.