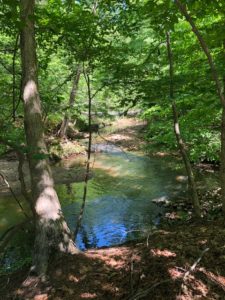 In my 32 years as an interior and textile designer, I've found inspiration in countless (and often far-flung) places; a busy market in St. Antonin Noble Val, the library in Glasgow, or the incredibly quaint Loch Lomond Arms Hotel.  If the last four months of isolation have taught me anything, it's that I don't necessarily have to get on a plane or go to a museum to feel that creative spark.  I just have to learn how to pay attention.
It's been four months since I, and most everyone else, started isolating.  Since then, my frenetic, never-a-dull-moment work schedule has been replaced by the familiar sights and sounds of my own home, and the most exotic place to which I have traveled has been my local grocery store. (In a mask, of course!)
Yet, from my window, I've watched cardinals and blue birds come and go.  I've observed (maybe for the first time?) how much the leaves on the trees change shape and color from spring to summer.  And some mornings, I look outside my window and spot a couple of fawns nibbling my garden next to their mother.  This parade of nature isn't anything new, nor am I really noticing it for the first time, (it's hard not to notice baby deer).  What feels novel to me is how much I'm looking at this every day in a completely different way.
This past February, before the whole world changed overnight, I took a textile painting class with Sarah Campbell, an internationally acclaimed textile designer.  One of the many things I took home from that class was an appreciation for Sarah's ability to look at practically anything and find inspiration in it.  Every element, every color, every texture has the potential to turn into a pattern.  It made me wonder: what am I looking at every day that I'm not really seeing?
When your view is suddenly limited – like say, when you go into lockdown inside your own home – that perspective becomes narrower, which isn't a bad thing.  It's more specialized, maybe even more focused, more suited to absorb what's around you.  I stroll around my backyard overnight.  When I do get out of the house, like when I make a monthly trip up to the 1,700-acre Gibb's Gardens in North Georgia, I find myself paying closer attention to everything.  It seriously makes me wonder how much I've missed.
In our work, inspiration shows up all the time, and references pop up in everything we do.  I might see something and mentally tuck it away for months or even years before it makes its way, however subtly, into a design, a pattern, a color story.  Our Women's Work collection, which we released n 2018, came about after thumbing through an article about textiles in Peru.  And this fall, we'll debut a collection inspired by the reaffirming, renewing, and yes, escapist feeling of the beach, inspired in part by how much we collectively hope to find that kind of calm in our own lives right now.
I don't know if or when the blue bird feathers, baby deer, or hydrangea leaves of my backyard will sneak into my work, but I do know that this forced slowing down has in turn forced me to sharpen my focus.  And when the world goes back to normal – whatever "normal" might mean – I hope I remember how to pay attention.